My dreaming about Nikon D5 :-)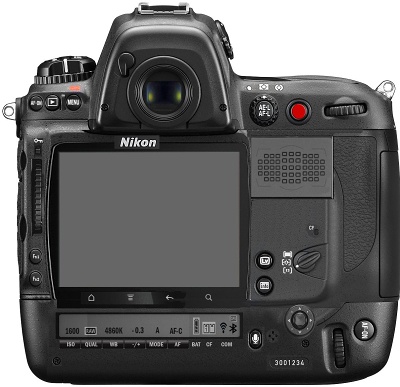 I am not Photoshop specialist, so forgive me attempt to make a tricky photo of the camera, but ...
Important are Ideas behind. I had a talk to guy (BBC awarded for wild life photo in 2011) and he said
that some things are really good in my design.
I would like to highlight just few of them:
Left roller - this is manual focus for fast moving objects (more practical than focusing on big lenses. Own experience)
Touch pad for selecting autofcus points - again, for sport and wildlife this is MUCH faster than standard cross button.
Additional screen with more information - good if you lay on ground and waiting for the subject, no chance to look on the top of camera to check all these...
Larger touch screen - operating system with Android, possibility to better manage photos, send them via GPRS/HSPDA/3G to the journalist office directly from the field and milions of new possibilities of custom software - can you imagine what all can be done? :-)
Higher resolution is welcome also, i do not want to carry 400/2.8 all day ... rather 300/2.8 and crop afterwards from high resolution.
Noise - at least as D3s or better
Nov 22, 2011